Aside from Chocobo Racing and Triple Triad, seasoned FFXIV Gil hunters can earn MGP through the Cactpot. This attraction in the Manderville Gold Saucer is perhaps the easiest of all attractions there. While it does not reward cheap FFXIV Gil, you won't need to buy FFXIV Gil either. Today's guide will show you how to play this attraction.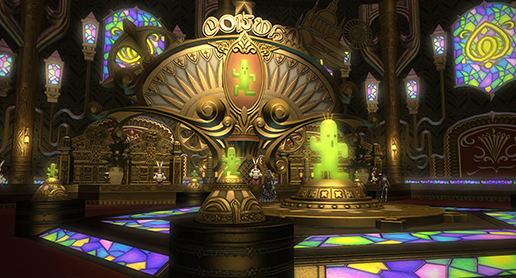 Before you test your FFXIV Gil hunter's luck
At its core, the Cactpot is a lottery. Final Fantasy XIV Gil hunters can join it once a week for a chance to win loads of Manderville Gold Saucer Points. Before players can purchase a ticket however, they will first need to clear the quest related to it. This quest is named Hitting the Cactpot. It is open to characters at level 15 or higher. Players will also need to have completed the initial Manderville Gold Saucer quest It Could Happen to You before they can take this quest. Those that meet the requirements can take the quest from the Jumbo Cactpo Broker NPC. The latter can be found in the Manderville Gold Saucer at coordinates x8, y5.
Placing your FFXIV Gil hunter's bet
Purchasing a Jumbo Cactpot Ticket will cost players 100 MGP. Note however that players can also purchase a ticket once per week. To be more specific, once per active drawing. Upon buying a ticket, the player will need to select four numbers between 1 and 9. This will then be the number of their ticket. Afterwards, players need to wait for the drawing to see if they win.
Prizes for FFXIV Gil hunters
The prize for each drawing of Jumbo Cactpot differs each week. This is because the pot grows larger the more tickets have been sold. Winning numbers are drawn from last to first. How much a player wins depends on how many winning numbers their ticket has. Players who get all numbers get the largest prize along with a Mad Bird Ring.
The drawing time for Jumbo Cactpot varies from data center to data center. Once a player has won however, they have up to a week to claim their MGP winnings. Players who pick up their prize within one hour will also get an Early Bird Bonus.  For a list of data centers and their draw timing, click here.