In an earlier guide we went over the basics of the Chocobo Racing attraction for the Manderville Gold Saucer area. Today we will teach Final Fantasy 14 account holders how to control their Chocobo during the race. We will also cover what you can do to get an advantage over other racers and what happens at the end of the race.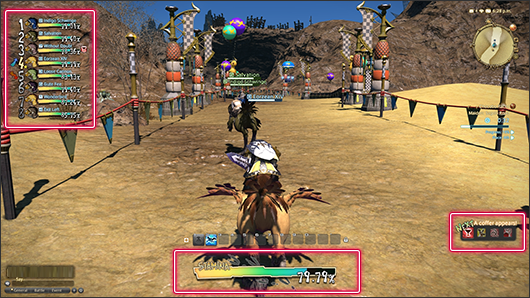 Chocobo Racing on your FFXIV Account
Finishing a race is easy. After all, your Chocobo will carry you to the finish line no matter what. Finishing ahead of other Final Fantasy XIV account holders however is a different matter. This requires precise control from experienced FFXIV account holders. For PC users it's relatively simple. Pressing W will accelerate your Chocobo forward. Meanwhile, Q and E will have it strafe left and right respectively and A and D will make it move left and right. Note that the Chocobo has a Stamina gauge that is used up faster when it accelerates. The less Stamina the Chocobo has the slower it will run. Better to save it for that final stretch.
Aside from controls, players should be aware of their position in the race. This is shown by the list on the upper left of the screen. The all important Stamina bar meanwhile is located at the bottom center. Lastly, any items you pick up are shown in the Race Item Notices on the right side of the window near the bottom.
Getting ahead of other FFXIV Account holders
To make the race more interesting Magicked Panels can found throughout the courses. Stepping on them will bestow a random effect on your Chocobo. The effect is often beneficial, but there are panels that will place something nasty on your Chocobo.
Aside from the panels, treasure coffers can also be found on the tracks. These will give race items to the player. These can be used to place buffs on your Chocobo or to make the race harder for your opponent. You can check out a full list of items here.
End of race considerations for FFXIV Account holders
A race will go on until all participants have reached the finish line. Alternatively, once a winner has been determined, the race will automatically end after 30 seconds. Players will then be rewarded with Manderville Gold Saucer Points and experience based on their final position. Additionally, a random racer between 2nd and 7th position will get bonus experience points.