After several teasers about a new class, Final Fantasy XIV: A Realm Reborn's new Rogue class will go live with Patch 2.4. The new class will allow FFXIV account holders to gather Final Fantasy XIV Gil using stealth and melee attacks. Final Fantasy XIV account holders will also get to use different poisons to help take out foes with the Rogue.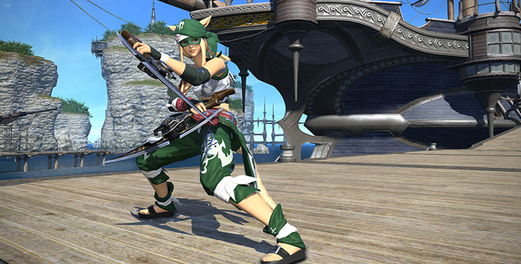 Stealth for FFXIV Gil
New Rogue class will be accessible to players with Patch 2.4. It will be a melee DPS class and will dual-wield daggers, knives and similar FFXIV items. As teased in previous announcements, the Rogue will be able to use stealth in tandem with special skills. These skills, along with numerous poisons will help the Rogue in fulfilling its role as DPS. The class will have Dexterity as its primary attribute.
Turning your FFXIV Gil hunter into a Rogue
FFXIV Gil hunters can get the Rogue class by heading to the Rogue's Guild in Limsa Lominsa. The character needs to first have completed the class quest available at level 10 however. If this requirement has already been met, they can then speak to Lonwoerd in Limsa Lominsa Lower Decks (x8, y16). The NPC will then give them the So You Want to Be a Rogue quest.
Skills your FFXIV Gil hunter will get
Rogues get plenty of skills to help them get Gil and items. Their core skill is Hide. When active, enemies will not be able to detect your Rogue. The downside is reduced movement speed. Once hidden the Rogue can then use Sneak Attack the delivers an attack with potency 300. When done from the front, it will 500 instead. Trick Attack is another skill used while under the effects of Hide. This attacks with potency 240. If done from behind the target, it will be 400. The target will then also take more damage for the next few seconds.